Once the user has scanned documents into ImageQuest, the user may launch IQdesktop as shown below. Go to Start > All Programs > Informa Software > ImageQuest and click IQdesktop.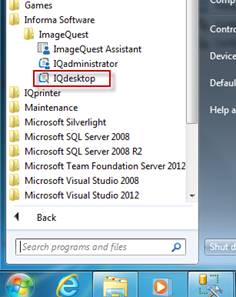 Note: If an IQ user has Single Sign-On enabled and is logged into the PC, they will be automatically logged into IQdesktop. Otherwise, they will need to provide a username and password in order to access ImageQuest.
The screenshot below shows the default view of the Home ribbon, which contains access to IQdesktop's major features in the "Search", "Work Flow", "New Document" and "View" ribbon groups.