The ImageQuest Assistant is a program that runs in the Windows system tray and monitors changes made to PDF files that are opened from IQdesktop and saves revisions back to ImageQuest. To use this feature, a PDF authoring program must be installed and configured as the default PDF file handler in Windows such as Adobe® Acrobat® or Foxit® PDF Editor.
After editing a PDF file that was opened via IQdesktop, click "save" or simply close the program and answer yes when prompted to save the file. The ImageQuest Assistant will pop up asking if you want to add a revision to ImageQuest.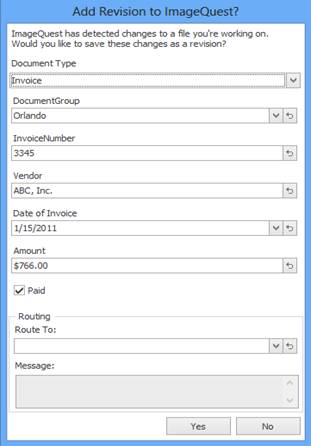 After clicking "Yes" to save the revision, a message notification will appear in the system tray letting you know
that the changes were successfully saved to ImageQuest.