Scan to ImageQuest replaces the IQscan program that was shipped with earlier versions of the ImageQuest client and supports any scanner that uses a TWAIN driver. If a user has the "Add Document" permission, they will see a button for "Scan to ImageQuest" in the "New Document" ribbon group of the "Home" ribbon tab. Clicking the "Scan to ImageQuest" button will launch Scan to ImageQuest.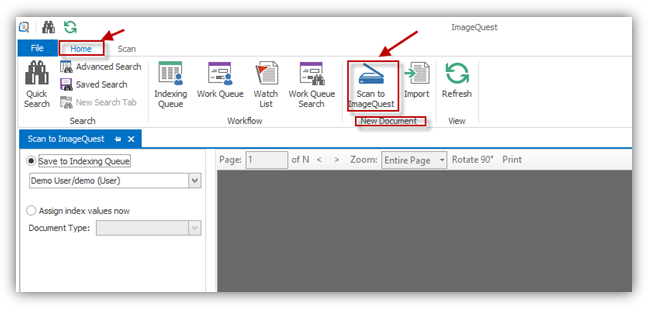 Scan to ImageQuest launches in a new tab.

There are two different ways to scan documents into ImageQuest. The default option is to save the scan to the logged in user's Indexing Queue. Use this option if you need to use batch processing or if you want to use the Smart Indexing feature. You can also use this option to scan the documents into another user or role's Indexing Queue by changing the selection in the drop down menu.
The second option is to assign the index values up front and commit the scan directly to ImageQuest. Use this method if you do not need to use Smart Indexing or if you need the ability for the document to bypass the OCR process and remain a .tif file (optional). Unlike the IQfolder, this method will not create an "MFP Scan" document type.
To start a new scan using the default TWAIN driver options, simply click the Scan to ImageQuest button in the "Home" tab, under the New Document ribbon group. If you need to change the source scanner or to select different scanning options, click the "Select Source" or "Scan with Advanced Options" buttons in the ribbon. After the scan is completed, you have several options available. Clicking the scan button again will append pages to the end of the current document. Clicking the

icon will insert a page before the current page and clicking the

icon will delete the current page. Click "Submit"

to complete the scanning process or "Discard"
to cancel and exit the scanning application.