IQdesktop client has an image preview pane that lets you see the document within the client without launching the document type's associated application. ImageQuest uses built in Windows Preview Handlers, the same technology that Microsoft Windows Explorer and Microsoft Outlook use, in order to render the preview pane. The following file types should preview in IQdesktop without the need to install additional software: .bmp, .jpg, .rtf, .txt, and .tif. Additional preview handlers can be installed as well in order to preview other file types. Installing Microsoft Office 2007 or 2010 will activate previews for .doc, .docx, .xls, .xlsx, .ppt, and .pptx while installing Adobe Reader 9, 10 or 11 will activate .pdf files.
The example on the next page highlights the preview pane for a selected document.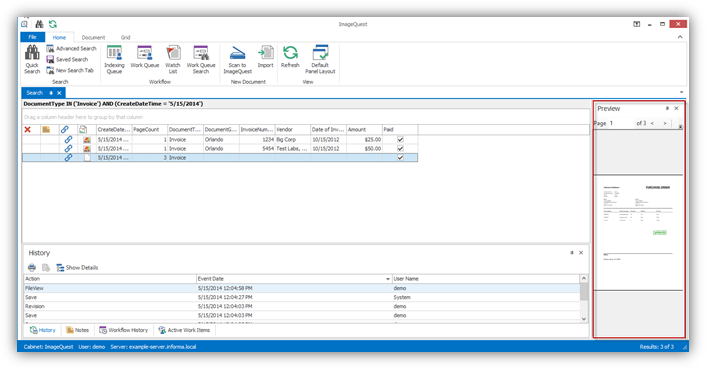 Note: Documents that are larger than 50MB will not show in the preview pane for performance reasons and instead will display a message asking the user to launch the associated application instead.
Note: As of ImageQuest 11.3, the Preview Pane is also available from the Indexing Queue tab. It is disabled by default and can be turned on/off by using the

button in the "Preview" ribbon group