IQfolder is a service that runs on the IQ Server to poll user defined folders for .TIF and .PDF files making them accessible from the Indexing Queue in IQdesktop.
Note: .TIF and .PDF files should be saved as multi-page files in order for the scan to show up as a single document in the Indexing Queue.
The first configuration step is to create the folder locations where scanned .TIF or .PDF images will be saved. IQfolder supports an unlimited amount of folders.
Configure the folder location path in IQadministrator; select Configure IQfolder as shown below. Read the highlighted notes in the window for more information.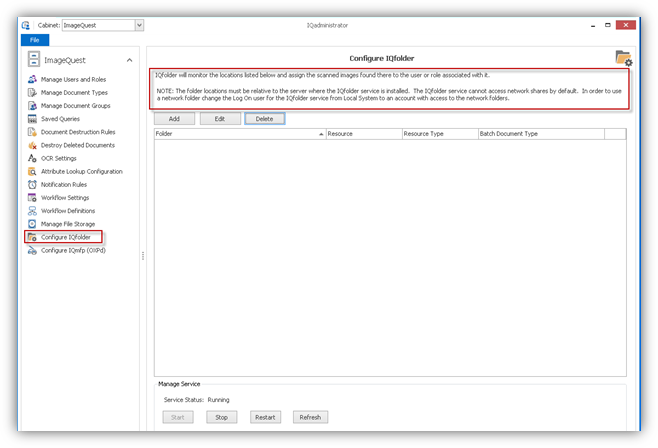 Click "Add" to create a new IQfolder folder.

Click the ellipsis button (…) to browse to and/or create the folder to be polled.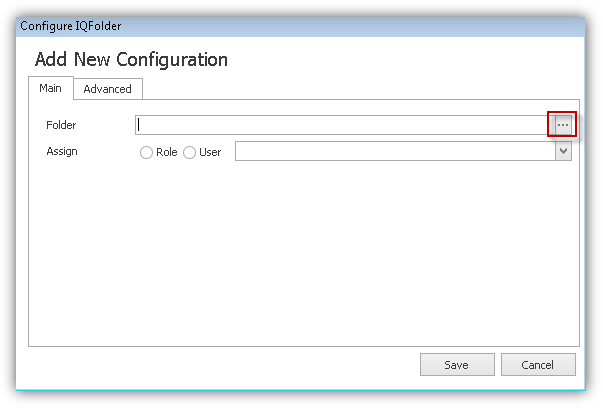 Select the User or Role to assign the folder to.
If the folder is assigned to a Role, the scanned files will appear in the "Indexing Queue" for every member of that Role. Only one user can access and index the file at one time. Once a member of the Role has indexed the file, it will no longer appear in the other member's "Indexing Queue".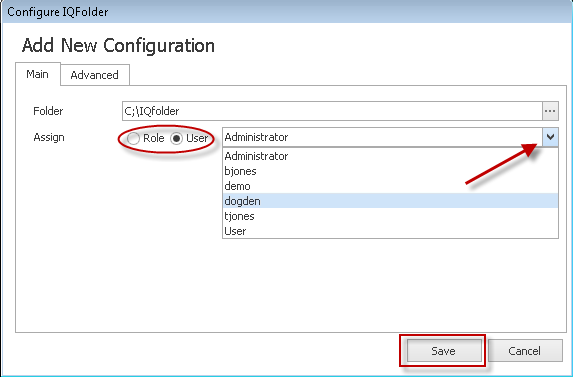 Click the "Save" button to save the changes.

Click "Edit" to modify an existing folder configuration or "Delete" to remove an existing folder. The 'X' at the end of an IQfolder configuration line can also be used to remove an existing folder configuration.
The "Advanced" tab can be used to set default values for attributes and document type on a folder by folder basis. This can be useful for grouping documents in the indexing queue based on the folder in which they came from. This attribute value will also be carried over during the indexing process when a new document type is selected. In the example below, an attribute called Priority IQ has been added to this folder with a value of 1.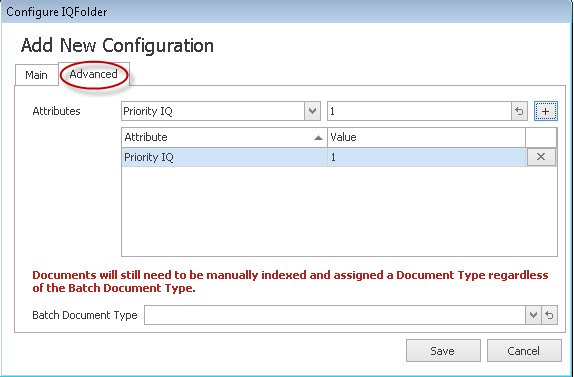 The Manage Service feature allows the ImageQuest Administrator to confirm the status of the IQfolder Image Importing Service and to Stop, Start and Restart the service as needed. Client machines can also manage the service remotely provided their Windows user account has permissions to start and stop services on the ImageQuest server.

Note: In addition to browsing for folders, a folder path can be typed or pasted.
Note: The folder locations are relative to the server where the IQ folder service is installed.
Note: A folder can be assigned to either a User or Role; it cannot be assigned to both.
Note: Refer to the scanner user's guide for more information on configuring the device to scan and save .TIF images to folders.
Note: It is recommended to scan Black & White (B & W) images at 300 dpi, and color images at 150 dpi.
Note: If a network storage location will be used for IQfolder, the IQfolder Image Importing service will need to have a user account with full control of the shared location. Please see the Advanced Configuration Topic.