It may be beneficial for users to assign multiple attributes to each Document Type; this equips users to search for documents in ImageQuest more efficiently. In the following example, we are creating a new document type called "Health History". The Administrator may check the box, "Show All Attributes," to determine if any existing attributes apply to the new document type. The screenshot below shows the existing attribute "Patient Name" is checked, assigning it to the "Health History" document type.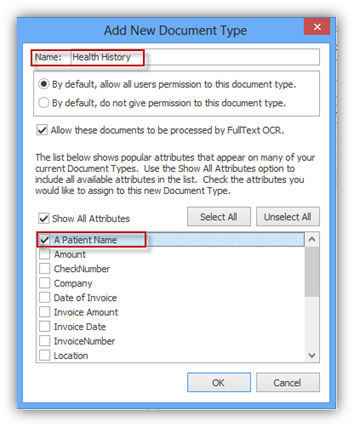 Note: When creating a new document type, any existing attribute that is associated with at least 80% of existing document types will automatically be selected for assignment to the new document type. Choose "Show All Attributes" to view all of the existing attributes defined in the system, and use the check boxes next to each attribute to select if that attribute is assigned to the document type.
Existing attributes can also be assigned from the document types tab by highlighting a document type, clicking the drop down arrow, highlighting an attribute and clicking the "Assign" button as illustrated below.