To add a new user in the ImageQuest Cabinet, select Manage Users and Roles as shown below.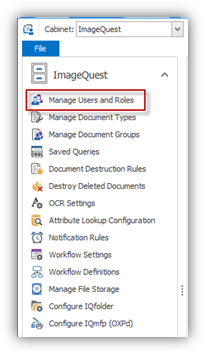 Any users that have been added through the Warehouse and are members of the ImageQuest Cabinet will be listed in Cabinet Users as displayed below.
Note: When a new user is created in the Cabinet, the new user is also created at the Warehouse level.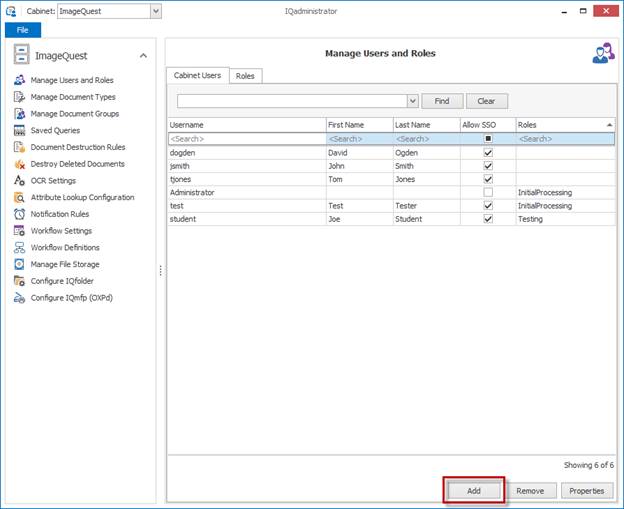 Click "Add" as shown above to add a new user to the Cabinet. An existing user can be chosen from the Warehouse list or a new user can be created at this time.
To create a new user, enter the name of a user in the "Username" field and the First Name/Last Name fields as illustrated below. Click "Next" to manage user permission and role memberships. Select "Done" to finish creating the new user.
Review New User Information in the Adding New Users topic before entering new user information in the fields shown below.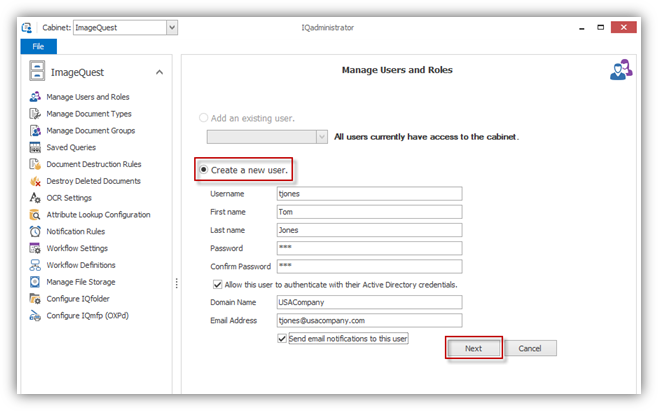 Note: If the user will authenticate with their Active Directory credentials, the Username must match the user's Active Directory login name. SSO is selected by default. Uncheck the checkbox for Active Directory credentials to deactivate SSO for a user and specify a password for the user instead; blank passwords are also allowed for non-SSO users.