The ImageQuest Warehouse accommodates multiple license keys. To view and manage license information in the Warehouse, click Manage Licenses. The "License Status" tab displays information on your installations. When ImageQuest is first installed, there is a 15-day trial period for all modules. If you have requested and received an extended trial license key from Informa Software Support, click "Extend Trial" and enter the extension key. See screenshot below.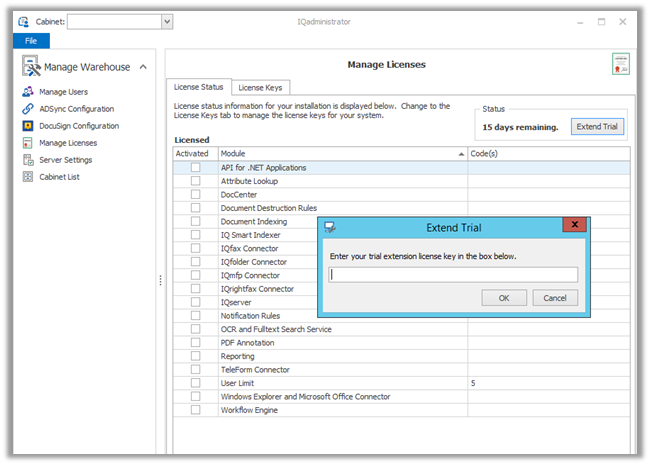 Note: The "Extend Trial" feature is only available on the ImageQuest server machine, not on the ImageQuest client machine.
To request a license key from Informa Software Support, you will need to email the Server ID, any current license keys and the serial number(s) of any HP MFP devices that will be applied to support@informasoftware.com. See below. Click on the "License Keys" tab in the Manage Licenses screen. The Server ID is located in the top, right corner of this screen, and may be copied and pasted into the email to Informa Software Support.

Once the license key code is received, copy the key code and paste it into the "Enter a new license key" field as highlighted below and click "Add".
Click the "+" and "-" boxes to expand or collapse the list of features in the Warehouse that are licensed. In the screenshot below, license keys have been entered by both "Informa" and "Demo" users. "Entered by" reflects which Windows user added the key.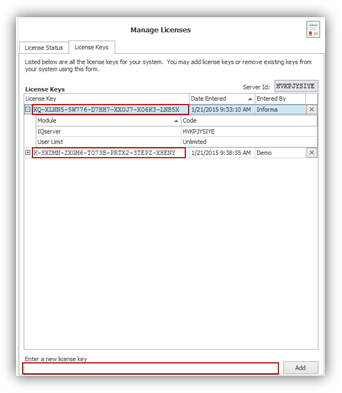 Note: To delete a license key, click the

next to the license key to be deleted.